Aaron Dilloway, The Nevari Butchers, Spine Scavenger, Wolf Eyes, Uss Orgo, Hanson Records and related.
20120926
AARON DILLOWAY
TRACTOR CUTS
C-46 Cassette
on ROBERT & LEOPOLD
Available now! HERE:
http://robertandleopold.com/
Posted by

Hanson Records
at 3:48 PM
1 comment:

20120919
My Track "Shatter All Organized Activities" Will be played on a massive 20 speaker system this Saturday, Sept 22nd, 2012 at the L'Audible Festival at INSTANT CHAVIRÉS in Paris, France as part of a special selection of film and audio selected by OLIVIER LAMARCHE & JÉRÔME NOETINGER.
Wish I could be there to hear it blasted! But if you can make it check it out!
http://www.instantschavires.com/spip.php?lang=en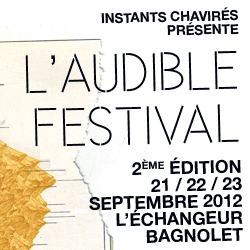 Posted by

Hanson Records
at 9:31 AM
No comments: